Season 3 Episode 2: Mask Mandates and Q&A
Oct. 1, 2021 I 3 p.m. CT
Join us for episode 2 with returning guest Ben Conley as we chat about mask mandates and any other updates to the latest vaccination mandate news. We will also answer all your pressing questions, so be sure to submit using the form on this page.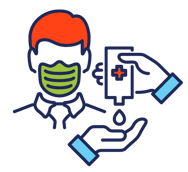 Season 3 Premier
Did you miss the vaccine mandate discussion featured in Episode 1? No problem.
Watch the discussion about vaccination mandates with special guest Ben Conley. Get all your questions answered as we dissect President Biden's latest efforts to get the majority of Americans vaccinated.

Have a compliance question?
Enter your email and question below and Bruce or Ben will answer on the next episode.