Helping your employees choose the right benefits is a good start at creating a more personalized benefits experience. But it isn't enough.
With benefits becoming more and more complex, the real challenge is to ensure your employees "activate" (or at least not forget about) the benefits you provide. Fortunately, today's technology makes this easy.
Watch this on-demand webinar to learn:
How technology can optimize utilization of benefits and programs that support employee health and well-being

Why COVID-19 may have forever changed the future of benefits

How to positively impact your employees' medical and pharmacy spend, as well as your own
VERONICA MCCOY
Director of Benefits, Sephora USA, Inc.
RHONDA MARCUCCI
VP of HR & Benefits Technology Consulting, Gallagher
CORA HALL
Assistant VP of Group Benefits Marketing, The Hartford
SHERRI BOCKHORST
Senior VP of Innovation and Strategy, Businessolver
Transcript
Look below each slide to read what each speaker had to say.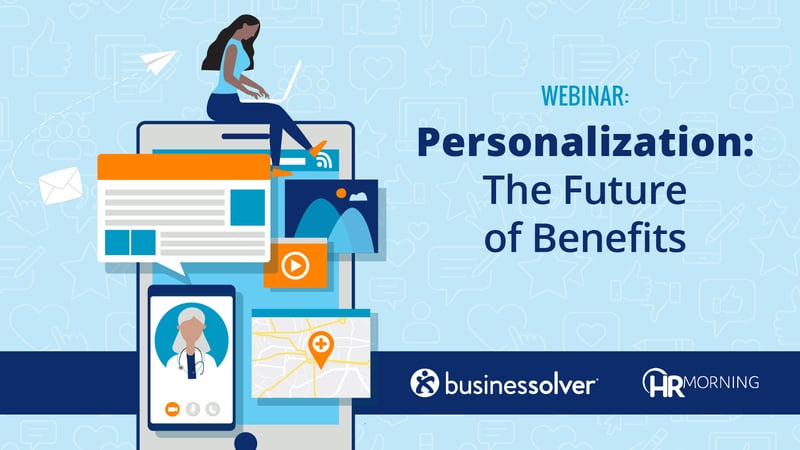 Event Producer: Hello, everyone. Thank you for joining us. This event is being presented by HR Morning and sponsored by Businessolver. Now, I'd like to introduce your moderator, Sherri Bockhorst.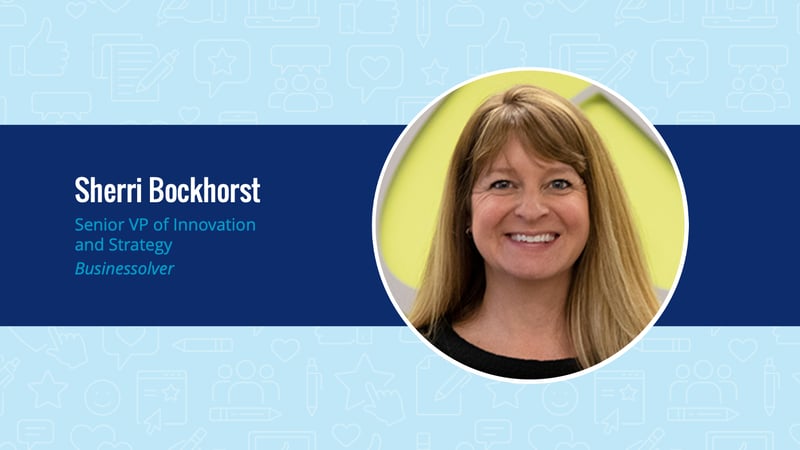 Event Producer: With 20+ years of experience working for professional services firms, Sherri Bockhorst is a trained actuary with considerable knowledge and expertise in employee benefits strategy, health care delivery, benefits administration, and consumer engagement. At Businessolver, Sherri focuses on driving innovation and outcomes to support the needs of Businessolver clients, employees and families. And, as it relates to our discussion today, Sherri is a strong advocate for helping employees maximize the benefits they already have, not only for their own health and well-being, but also for their organization's bottom line.
Sherri, the floor is yours.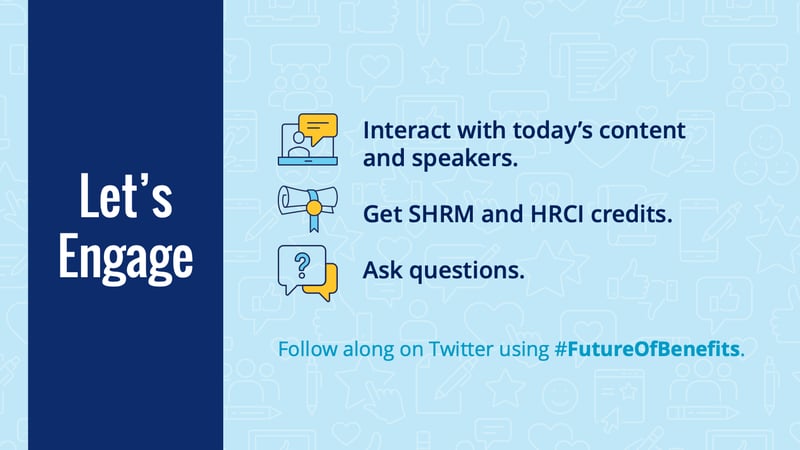 Sherri: We're excited you're here and we look forward to engaging with you, not just today, but in future webinars as well. Today's webinar—and all Businessolver webinars—offer continuing education credits through SHRM and the HR Certification Institute. We'll provide those program codes at the end of today's presentation so you can get credit for participating today.
Before we get started, make sure to keep an eye on the Chat tool, where we'll be sharing additional information and links throughout the presentation, including the link to the special "early access" offer of a brand new e-book, "Cost Transparency: 500 Ways Benefits Will Become More Personal." Part compliance and part strategy, we hope this resource helps you plan for the changes outlined in the recently finalized Transparency in Coverage Rule.
Ok, on with the webinar. Let me introduce our first panelist….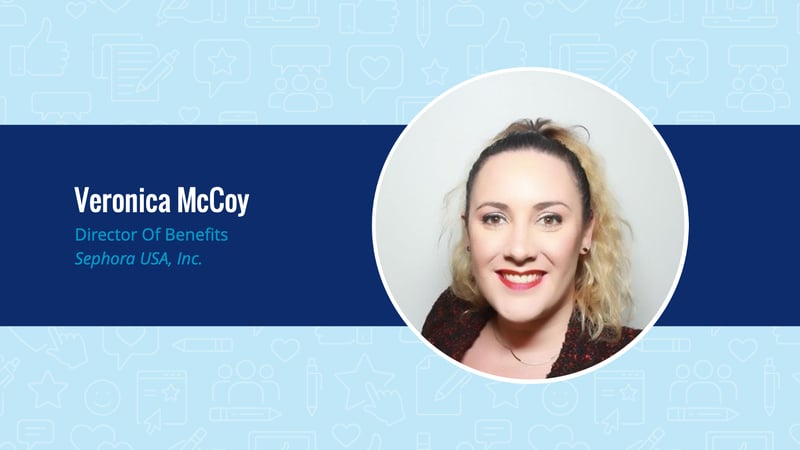 Sherri: Veronica McCoy has 10+ years of experience in the United States' and Canadian health and welfare and retirement field, LOA management, HRIS systems, wellness, and total rewards. As Director of Benefits for Sephora, she is responsible for providing innovative and experiential benefits to over 20,000 employees across the US. When Veronica isn't helping Sephora employees choose and use their benefits, she enjoys spending time with her family. Welcome, Veronica! Next up is Cora.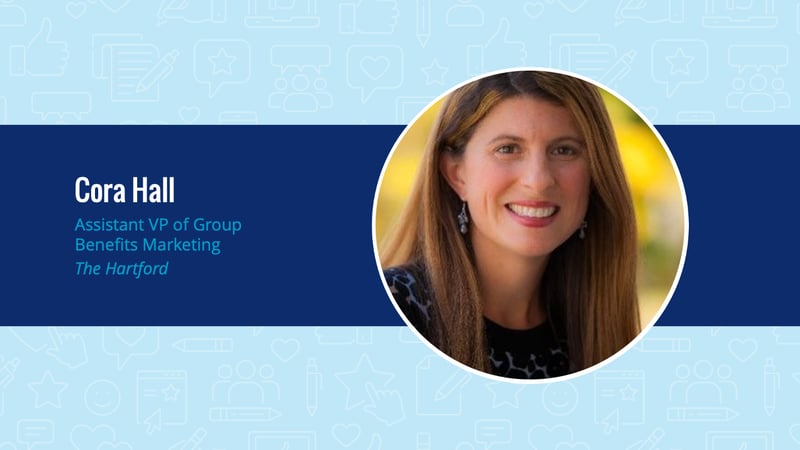 Sherri: Since joining The Hartford in 2017, Cora Hall has led marketing strategy for employer markets and affinity groups including serving as the go-to-market lead for the acquisition of Aetna's group life and disability businesses. Her scope includes sales enablement, advertising, product and technology releases, and direct-to-consumer campaigns. Prior to joining The Hartford, Cora led customer marketing for MassMutual and was the enterprise digital content lead for AXA's life insurance business. When she's ready for a break, you can find her running on one Connecticut's wooden trails. Hi, Cora! Last, but certainly not least, is Rhonda.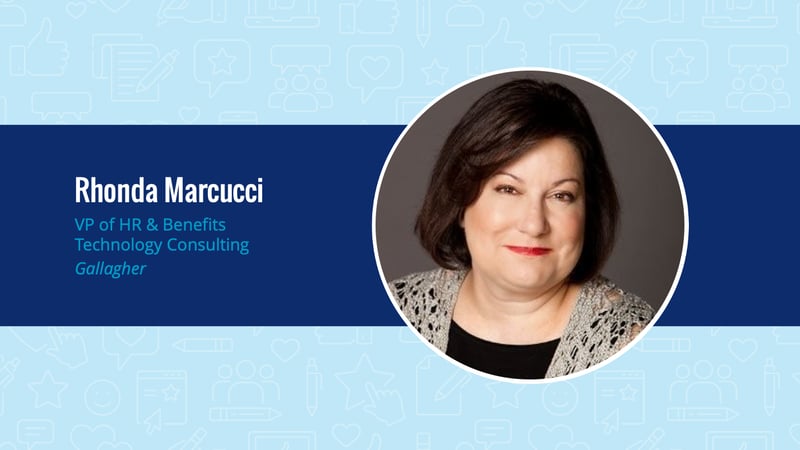 Sherri: Rhonda Marcucci launched Gruppo Marcucci in 2005, a boutique consulting firm focusing on the HR and benefits technology outsourcing marketplace. In 2017, Gruppo Marcucci was acquired by Gallagher and it now serves as the HR and benefits technology consulting practice of Gallagher Benefit Services. Her team is recognized for its well-researched and unbiased sourcing advice and service provider capability audits. As a financial and operations executive with extensive experience in finance, accounting, administration, strategic planning, information systems, sales and marketing, and operations, Rhonda possesses a wealth of expertise and knowledge relative to identifying strategy and executing against it. Welcome, Rhonda.
I'm super excited to have these three panelists with us today. As we've been prepping for this session, what's really exciting for me is we have such different perspectives to bring to bear today, which I think will be really helpful to lend some insights to from an audience perspective. Let's dive into the topic.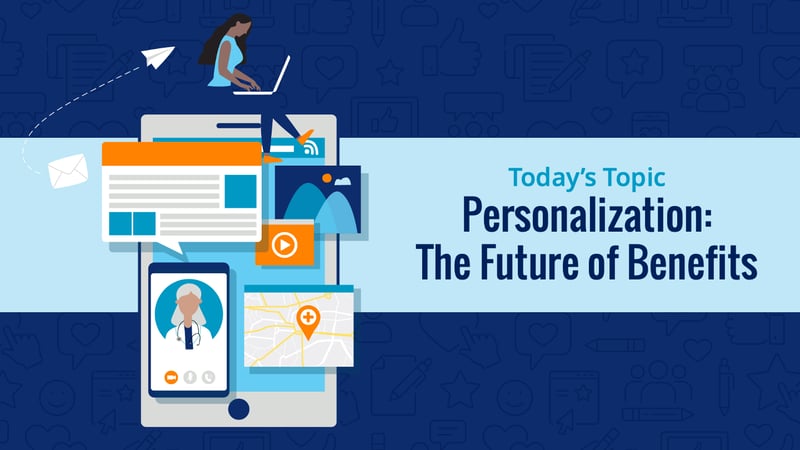 Sherri: As benefits professionals, our chief concern has long been ensuring employees choose the right benefits for themselves and their covered dependents. That's why many of us consider annual enrollment our super bowl—the biggest event of the year. But benefits selection is just the first step, especially today.
As benefits become more and more complex, it's up to us to ensure our employees are empowered to make the most of the benefits they've chosen—or at least not forget about them. The problem is, benefits are confusing.
Fortunately, today's technology can help alleviate some of that confusion, oftentimes in ways that are already familiar to us. Netflix knows your preferences better than you do. Amazon can open your garage door to place your packages safely inside. And an app on your phone lets know you how often you—or your teenager—is speeding.
We're talking about personalization. Your employees already experience it in their day to day outside work, so it's reasonable to assume they would expect—or at least appreciate—an experience where they're connected with the right care at the right time in the right place and for the right value.
As we consider personalization as the future of benefits, let's start with reviewing some recent benefits trends.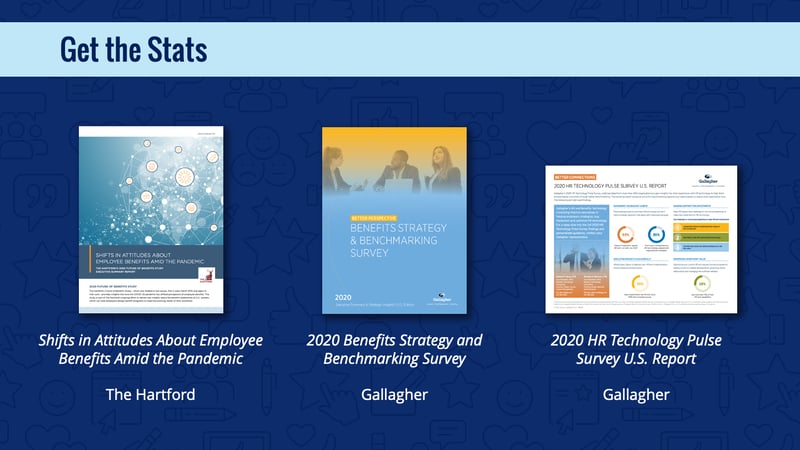 Sherri: There's data that shows that 72% of individuals want an expect of personalized experience. And, 64% of those individuals expect that experience and that personalization to happen real-time in multiple channels. Again, the breadth and complexity of benefits coupled with technology begs the question, "How do we get to that degree of personalization that's expected at the consumer level?" That's what we'll be talking about today. Our presenters are going to leverage quite a bit of research in our discussion. Here's a summary of each.
Shifts in Attitudes About Employee Benefits Amid the Pandemic, The Hartford: Designed by industry and research experts to provide a more targeted approach and listen to both HR Leaders and US Workers to identify opportunities to educate others as we think about what the future of benefits looks like from both an HR Decision Maker and U.S. Worker perspective. Conducted in two waves—pre- and post-COVID. They were able to gauge sentiments before pandemic, see trends and changes that started just 90 days after lockdown. Qualitative interviews are also included.
2020 Benefits Strategy and Benchmarking Survey, Gallagher: Provides data and insights that help guide HR professionals to better outcomes through better benchmarking. Conducted from December 2019 to May 2020, nearly 4,000 organizations across the U.S. responded to questions covering the total compensation spectrum. Because most data was collected before the disruptive impacts of the pandemic were widely experienced, insights from a more recent series of Gallagher pulse surveys on employers' responses to COVID-19 are also included.
2020 HR Technology Pulse Survey U.S. Report, Gallagher: Provides data collected between May and July 2020 from more than 400 organizations to gain and share insights on the HR technology experiences of HR leaders, including the strategic value of their investments, to help them achieve better outcomes
If you download the slides after today's presentation from the Businessolver.com/Resources page, you can get links to each of these important reports. Or, check the Q&A panel for links and download them right now.
Sherri: Okay, so that's all the background, our amazing speakers, and the research that we're going to reference. Our discussion today is really focused in four areas covering how COVID has changed the employee perceptions of benefits, how we engage members in those benefits, and some predictions for the next year or two. What's going to stay? What might continue? What might stop? What does that future look like? Really excited to bring that forward. First, Cora, I'm going to kick it off to you on some of those employee and employer perception of benefits.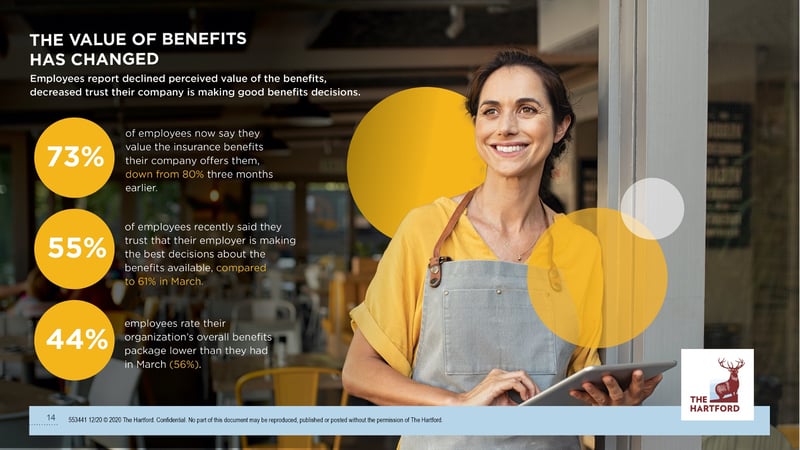 Cora: Thank you so much. It's really an honor to be here today representing the Hartford. As you mentioned, we spend a lot of time studying the American workforce, both from the employee and the employer perspective. We saw some significant shifts in 2020. We started the survey in March, and then went back out again in the June timeframe. What you see is really that erosion of trust in employee relationships, as well as the questioning of our benefits.
We see that 73% of employees in June were wondering about the value of their overall insurance benefits package down from 80% in March. When we think about how employees are feeling about, "Is my employer making the best decisions for me?" we also saw a decline there from 61% in March down to 55% in June. Then finally, just overall, "Is my benefit package competitive?" Also, another decline there from 56%, down to 44%. We're looking at the perspectives here about 90 days into lockdown.
Some of the things that we saw, particularly from those younger cohorts, was they did have an interest in getting their benefits from their employer. That is their channel of choice in terms of where to get them and there was significant lift and increase with both life insurance and leave. Those are some of the bigger ones among younger cohorts with Gen X males popping. In particular, we saw fathers in the industries of government and health care and finance really expressing the strongest interest in those packages. There's good news and bad news in this and that.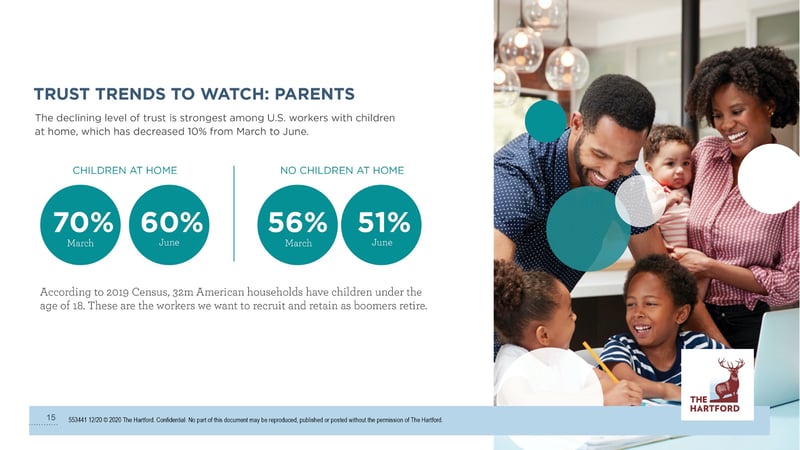 Cora: There's a lot of opportunity for employers to be talking to employees about the value of their benefits. The biggest trust trend to watch that we saw is with parents. You see that there was a 10% decline amongst those who answered the survey that have children at home. Certainly, employees that are caring for young children have been under a tremendous amount of strain. They are questioning whether their employer has their best interest at heart. This is an important trend to watch.
These are the folks we're going to want to recruit and retain long term, long after the pandemic is over and as the baby boomers retire. They really need to understand the benefits that you're offering. There's also something to think about here, just in terms of a recruiting perspective. On one hand, we want to retain our workers. On the other hand, if you feel like you have a very compelling benefits package, there's an opportunity to use it further with this group to recruit.
Sherri: Those are great insights. I'm one of those parents who started working from home. My child was at home from school. I'm trying to balance all that, and it's super tough. I think there is even more of a reliance on our employer to help us through this in some new ways.
Veronica, I know you have some insights on what you've been looking at for Sephora. You had an interesting opportunity or challenge that forced you to pivot really quickly, given your annual enrollment date. Maybe you want to talk to us a little bit about those trends or those insights?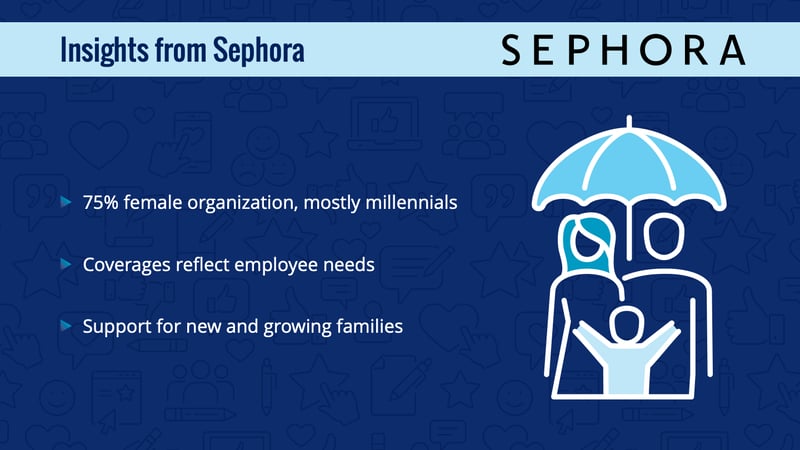 Veronica: Yeah, sure. Thanks, Sherri and Cora. As a beauty retailer located in 48 of the 50 states across the U.S., and being in the San Francisco Bay Area, Sephora has around a 75% female organization with majority being in that millennials group. Our employees are extremely tech savvy, and we're constantly competing with technology. Those numbers that you share on the slides are quite surprising, given that we are in a global pandemic. I would hope that most employees would see value in their benefit offerings as we were thoughtful in what we offer year over year.
As Sherri mentioned, our annual enrollment does fall in August with our plan year starting in October. Last year, when the pandemic started in March, we had this unique opportunity to quickly pivot and look at what benefits we were offering, and to see what we could add that would make sense for where we were at. We did end up adding hospital indemnity coverage during the pandemic. We did have a lot of employees that expressed interest and added this new benefit. Then also, just because of the timing too, our enrollment was higher for open enrollment than last year.
Also as Sherri mentioned, I personally feel for working parents. I am home with my nine-year-old twins every day. I do have a sign currently posted on my door that says, "Do not enter. Meeting in progress." If they do come in, they come in. We both try to be respectful of each other since they're home during school. Obviously, I'm home with work.
One of the things that, at Sephora, we pride ourselves on, is being a destination for people to come, start and grow their families. We definitely want to keep an eye on this group and ensure that we're providing them the flexibility that they're looking for, and emotional health support. We're looking at the voluntary products that are in the market, and what potentially could be coming in the near future. And then just providing some of those other great benefits that parents are looking for, whether it's paid time off, employee resource groups, etc., where they can connect with other working parents to share best practices. Just taking a look at those different offerings to see how we can continue to attract and retain talent to Sephora.
Sherri: Yeah, that's super helpful, Veronica. And a perfect segue, Rhonda, I think into the next slide. When employees think about what Veronica just talked about, it was a combination of "choose and use," and I love borrowing your terminology on that. Because she talked a little bit about offering some new voluntary products, which obviously has an educational component, but also talks about helping support families. Rhonda, when you talk about this from a decision support perspective, what are those two primary categories that you're usually thinking about?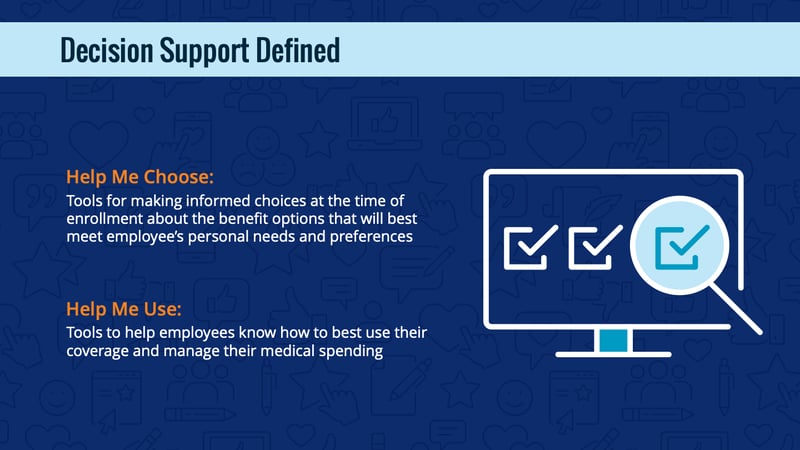 Rhonda: We're thinking about how to help people choose their benefits and then, of course, how to really optimize them. When I think about this industry, over 20 years ago, when benefits administration came online, we were really just trying to solve the automation of the benefits transaction. Fast forward, we did that. With the tech and the advent of exchanges, it allowed our employers to provide more choice and to provide personal tools to help employees choose the right plans.
The next logical step was tools that help employees use or optimize their benefits. While these are still in a relatively early stage, with data, they're getting so much more sophisticated. They're really helping employees better understand what they have to do to optimize spend. Think about tools related to cost quality and transparency. Or tools that identify things like missed screenings. Tools like that. I think the future is bright for HR tech to truly help employees be better health consumers through personalized experiences.
Sherri: Yeah, there are a lot of different tools at play, if you will, both that can be supported through benefits administration or integrated within benefits administration technology or totally sitting outside of benefits administration. Rhonda, when you talk about tools, it's the whole gamut, isn't it?
Rhonda: Yeah. It could be a YouTube video. It could be an Instagram site. It could be an avatar who tells you what to do. It could be an interactive tool where you answer questions and it gives you a recommendation. I think the tools are all over the map with some underlying technology.
Sherri: Exactly, exactly. Okay. Ty, let's see if we can get this first poll to work.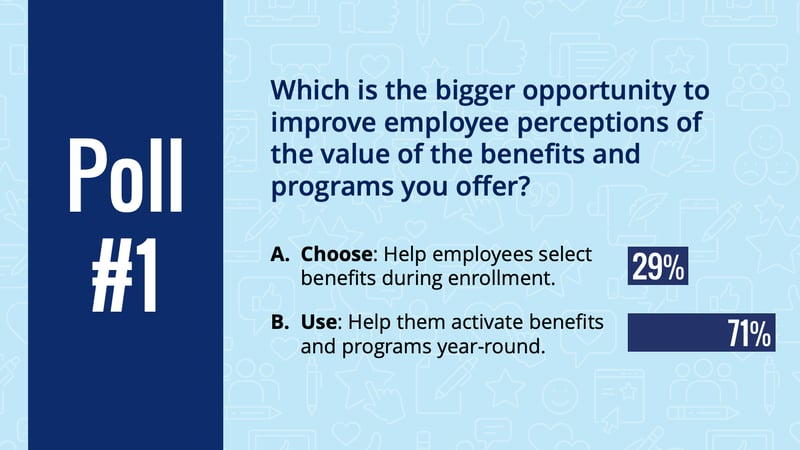 Sherri: One of the things that we really wanted to hear from our audience about is, as Rhonda talks about, "choose" and "use." When you think about your own employee populations and the value that you're seeking to provide through your benefits plans and programs, again, both those benefits that somebody elects, as well as benefits or programs that you might offer like an employee assistance program or a telemedicine or a clinical type of program that somebody doesn't enroll in, that you're making available to them. Which area ("choose" or "use") do you think you have the biggest opportunity to improve that employee perception?
Cora talked about employee perceptions and how they're down mid-COVID. They weren't incredibly high to begin with, and now they're going down. Which of these tools types—"choose" or "use"—do you think would be most beneficial to help with that employee perception issue?
I'll give it just a minute here. While we're waiting for the responses that come up, I think a couple of us have already brought up the cost transparency role. Again, you can take advantage of that Q&A tool and download Cost Transparency: 500 Ways Benefits Will Become More Personal, obviously, the 500 being the first level of categories where costs transparency has to be provided.
Okay here are the responses. Ha, I love it. I've been in this industry 30 years, and I feel like all 30 years I've been fighting to get more of a focus on "use" instead of "choose," because people spend only an average of seventeen minutes choosing their benefits. They spend way more time on purchasing a television they do on their benefits. I'm so happy to see how our audience responded.
I'm going to quickly walk through this with our panelists. Rhonda, if you had to choose between those, what would you have chosen?
Rhonda: Well, I actually think they're equally important. Because I think if you're really good at helping people "choose," then they'll actually "use." I think if they choose the wrong thing, helping them use it becomes actually very difficult. I'm on the they're equally important side.
Cora: I would agree at considering this multi-generational workforce. I think we need both. I think we need to honor all the different ways that people want to learn. Ideally, you'd have a mix of the two.
Veronica: I would have to agree. I think a good mix of the two. I think I focus a little bit more on the use portion of it, but agree with both.
Sherri: Yeah. Great. Well, wonderful insights. Thank you, audience, for participating. Let's move into our next section then.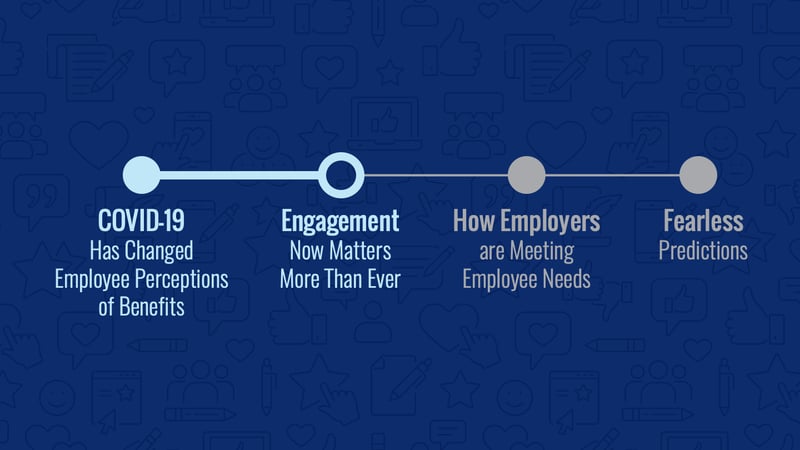 Sherri: Having the "choose and use" mindset, engagement really matters probably more than ever, particularly given some of the statistics that Cora shared from the Hartford. Rhonda, I'm going to kick it over to you first to talk a little bit about what you're seeing happening from an employer benchmarking survey perspective.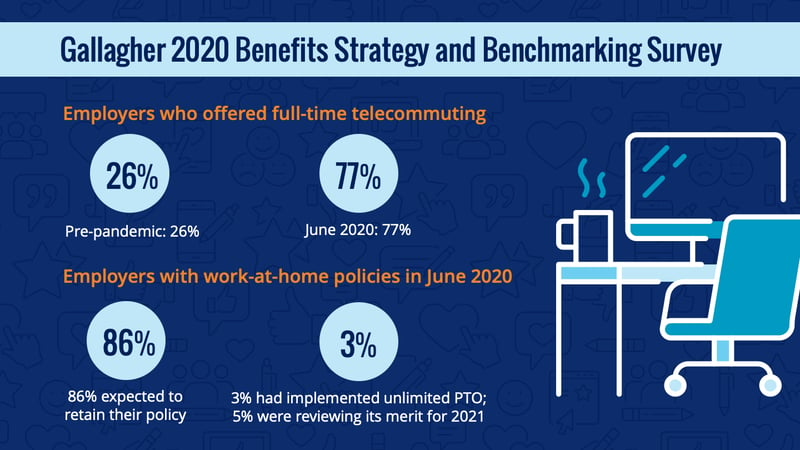 Rhonda: Yeah, I think the numbers say it all, in terms of what happened. We're now all telecommuting and everyone's really looking at their work-from-home policies and unlimited PTO. I feel like COVID changed a lot of our old-school thinking on how we work. I think most of us realize that many jobs do not have to be in the office. I think these steps support the shift in thinking, especially around trusting employees. We all heard everybody saying, "Our people are working from home and we are worried about productivity." But, productivity actually increased. I think trusting employees to get the job done, no matter where and when they work, is the name of the game right now.
Sherri: Yeah, totally agree. Given those changes, I know the Hartford study showed similar results as far as working from home and sticking with some of those policies. That really does lead to engagement. We were in an environment before where we were engaging our employees real-time, or face-to-face, with benefits managers on site, etc. How do you look at engagement now from a Hartford perspective?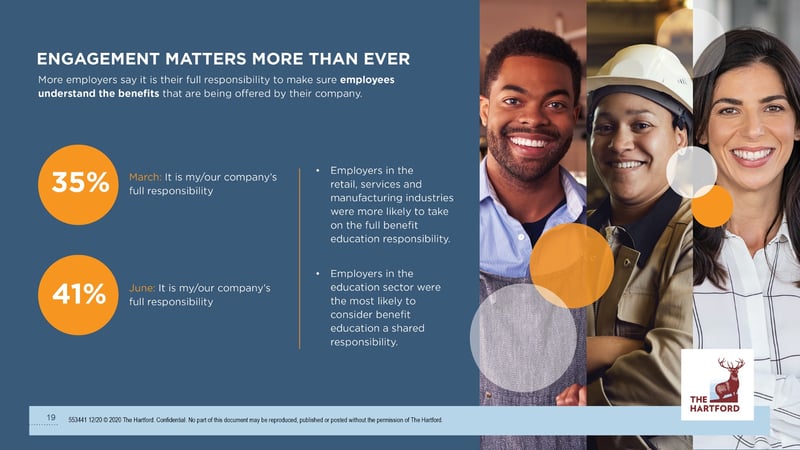 Cora: As we think about engagement, this was a pretty significant shift too from the employer perspective. At The Hartford, we service small businesses all the way up to the Fortune 50. What we saw across the board is this increase in employers really feeling responsible to make sure they were doing everything in their power to educate their employees on the value of their benefits. And it's certainly true in the industries where we see essential workers; health care, manufacturing, the public sector and education—those hit hardest in terms of not being able to do remote work.
One of the things that also surprised us in this study, particularly in the national accounts space, are companies that have 5,000+ employees staffed the phones and they were ready for an influx of calls from employees wanting to know more about their benefits. But the calls didn't come. That really surprised them. What we also found in the study is the protection of privacy that employees are feeling, and how much they're willing to share with their employer about their questions. They have a lot of questions.
We had a number of companies that had us do lunch-and-learns and webinars. Over the summer, I personally participated in some of those. There's a significant learning curve. Employees asked fundamental questions such as, "What's a beneficiary?" and "How do the payments work on a disability?" They really need to know the basics. There's such an opportunity here for employers to really capitalize on that and educate their employees.
Sherri: Yeah, I love that you use the word responsibility. I saw a lot of employers taking more responsibility in those foundational educational basics around benefits. I saw a lot more employees—again, it was a pandemic—where understanding benefits, being proactive about understanding benefits and leave, and all of that was top of mind. I saw a lot more questions from our employees coming in. That part about being responsible is really important. We also saw this big chunk of deferral of care. Because a lot of non-essential services couldn't be completed.
My mom was supposed to have a hip replacement surgery a year ago. Now, maybe she'll have it by the end of this year. All of those services are working their way back through the system. I know I've written some blog posts on that, that we might want to share as well. Between that deferral of care and people getting more engaged in their benefits, employers are trying to take more responsibility for that education, which becomes really important.
Veronica, from an employer perspective for Sephora, can you talk to us a little bit about the ways in which you've tried to enhance and own that from an employer perspective. That is, how you own helping employees with that educational component?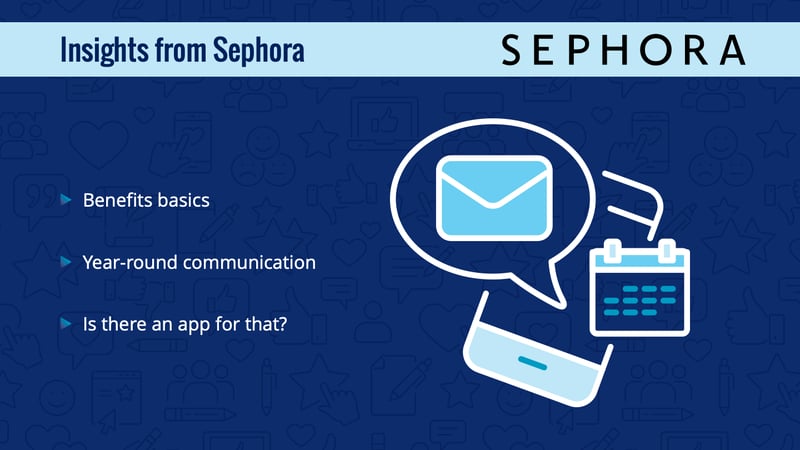 Veronica: Yeah, sure. Again, we are a bit unique. Obviously, we have employees that span all across the different generations, the largest portion being the millennial portion. Our focus has been around really teaching the benefits basics to our employees. Because for most millennials, this is the first time they've gone on to their own health plan; they're coming off their parents plan at age 26. We really need to teach them to understand the basics of even just how to use a plan, what a deductible is, and how to find a doctor. That's what we've been doing over the last couple of years.
One of the unique barriers that we have with engagement is reaching our employees, because most of our workers don't have a work email address. We need to communicate via your regular snail mail communication, or text messages through our benefits platform, slides that are on the TVs that are positioned across the floors at our distribution centers, etc. I too truly believe that the more frequently that you can communicate with your employees throughout the year about all the programs that you offer, the more relevant you become.
Hopefully, they stay engaged with you year-round. Anytime I'm looking at new programs that we can roll out, the first question we always ask is "Is there an app for that?" We need to make sure that our employees have access to their benefits anytime, anywhere.
Sherri: Yeah, I love that, anytime and anywhere. It gets back to that ... Again, I think Veronica and I were both leaning a little bit more toward that "use" over "choose." Anywhere, anytime, how do we really help people out? Rhonda, from the Gallagher tech study, I know, you had some interesting insights on why employers are investing in technology. Can you share a little bit about that with us?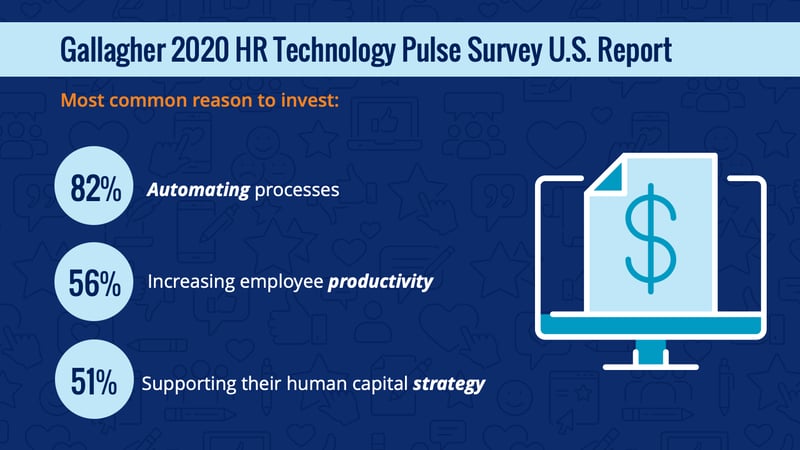 Rhonda: Yeah. We were really surprised, and frankly, disappointed in the fact that people were investing in tech to automate their processes at 82%. I say that because the tech truly exists to get at least 90% automated. I think COVID shone a light on the fact that many had either not automated or they were using really, really old systems. What I really love about the third stat, is that employers are making the connection between tech and their people strategy. Tech is never going to replace people strategy. I think it's a tool that can really help with the people strategy. It was really great to see that that number is 51%. It's good.
Sherri: To me, there's such a tie between that third statistic about supporting the human capital strategy and the second one about productivity. Back to what Veronica was saying, helping people get the information where and when they need it. If we can do that through technology in real-time in a personalized way, it ties back to that productivity. At night I can easily find out I have a telemedicine provider and that also helps me with my productivity the next day. All of these things tie together.
I know, Cora, when we were talking, you had an interesting perspective on that 82%. We were all are like, "What?! We've been able to automate processes for a long time. Why is that still 82%?!" You want to share your perspective?
Cora: Sure. We've been hearing a lot from employers just about the administrative burden that they're taking on as a result of the increase in technology. There was a great study that came out from PwC, just around HR technology. There was a stat in there that said there's potentially a 40% increase in the amount of vendors that HR professionals have to manage. There's so much behind automating processes and being able to drive the technology that HR professionals are trying to manage.
At the same time, they are going through an unprecedented amount of stress with their own employee population, and they're being challenged with doing more with less. I think, certainly, at The Hartford, we think a lot about how can we ease administrative burdens and how can we be a better partner to our customers to help them through the integration of technology.
Sherri: Yeah, really good. There's definitely a change process that has to be taken on. But the pain of that, in my opinion, is well worth the outcome. There is that transition period, which can be tough.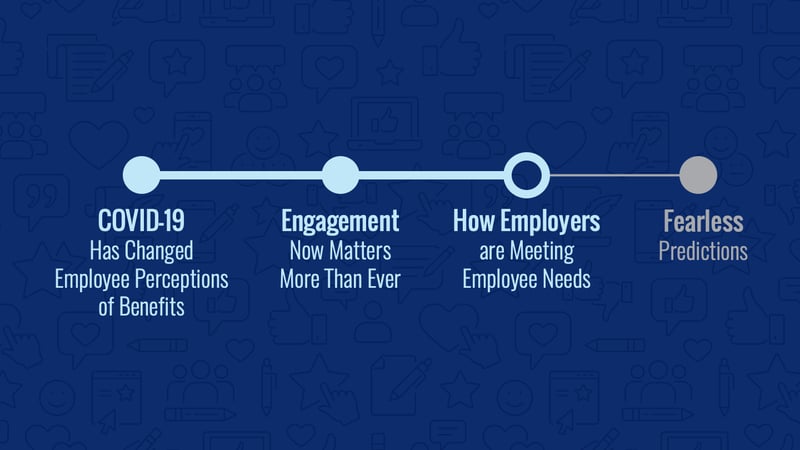 Sherri: If we want to move into the next point on our discussion, when you think about technology, when you think about the challenges that are in front of us, you ask, "How are employers meeting these employees' needs? Again, Veronica, the employer on our panel today, I'm going to pass it to you first to talk about some of the learnings that Sephora has had and how you've attacked this.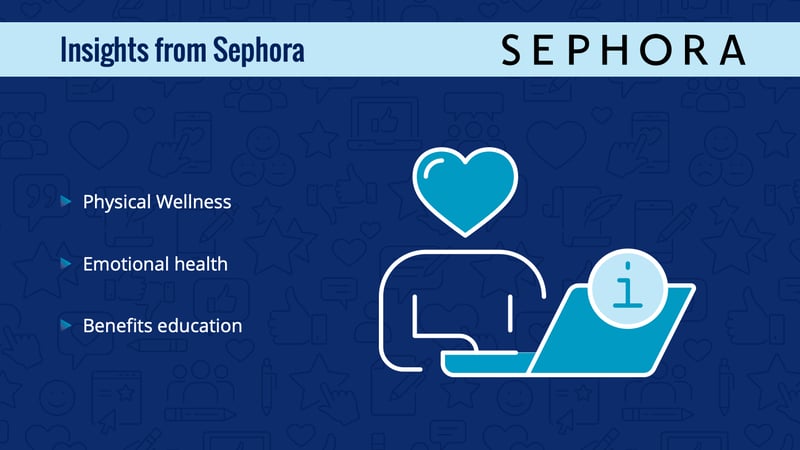 Veronica: Yeah, definitely. As you said, we're going to talk about the "choose" and "use" throughout the session. As I mentioned earlier, I think with our demographics, you have to encourage both of those. We are mainly focused on the "use" portion. As I had mentioned earlier too, Sephora has an off-cycle plan year; our open enrollment is in August. We did have to pivot this year during the pandemic and get creative with how we interacted with our employees.
We offered virtual wellness classes from yoga to meditation, and fireside chats with experts on emotional health and COVID-19. This was before the virtual benefits fair was even a thing. We had to quickly decide, "How could we engage with our employees?" We did a benefits jeopardy with prizes to engage them in the conversation. And, we had the ability to schedule appointments with our dedicated customer service team. Again, we just had to quickly come up with ways to reach our members and our employees.
This year, we really focused on benefits that could also be accessed virtually, since most of our employees were at home, while some were still continuing to work in our stores and our distribution centers. We focused on our employee assistance program, our emotional health support app, telehealth, and then just reminding employees about taking time off to support their overall mental health during these uncertain times. We would highlight a new benefit every month, depending on different events that would happen year-round. One example is how we supported our company's diversity and inclusion goals by adding additional holidays this year and showcasing our top benefits and perks in a short video with them featured.
Sherri: If I could have anybody replay over and over again one section of this webinar today, I think it would be what Veronica just talked about because they're on that one side in those discussion points. I think Rhonda was talking about tools and all the best ways that we can leverage tools, and able to support employees. Veronica just listed a whole host of creative ideas that they had to turn on in time to deploy in this new environment, given that they're an 8/1 plan year.
I love the monthly highlights of the benefits, being able to support people year-round, and all of those opportunities that she mentioned. I know a lot of you probably have a January 1 plan date, not August. We do have a couple of webinars coming up that focus on the annual enrollment strategic planning. They're on June 22nd and July 13th. We can post some information about that, but really want to pull forward some of those other opportunities as you're thinking about your 2022 plan year, which just right around the corner.
Cora, I'm going to pass it back over to you from a trends perspective. Veronica, if I remember correctly, of all the things that you just mentioned, one of the things that I don't think you said at all was that you printed and mailed a bunch of things, right? Cora, you want to talk to us on this next slide about what you're seeing as far as trends in the communication realm.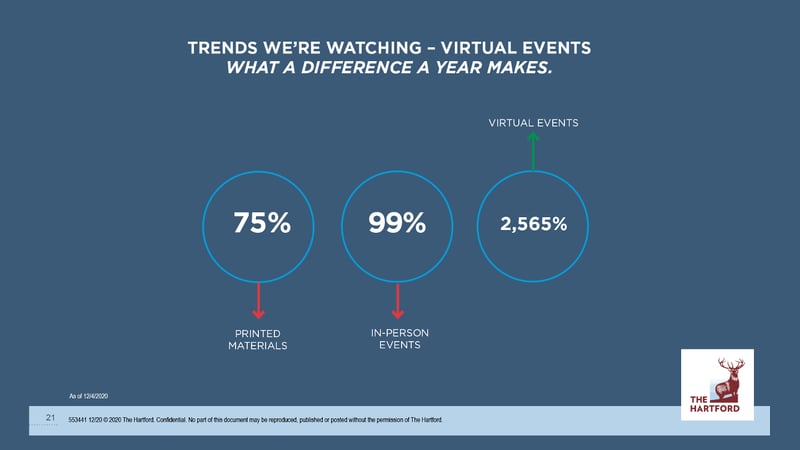 Cora: 2020 was unprecedented, and on so many levels for us. Typically, peak season begins around the July timeframe and runs through November for us. We start working with our customers in the May/June timeframe. This year, what we saw across the spectrum of companies is that HR professionals really didn't know if they would be back in the office or not. For the first time, we had to work through the scenarios of an in-person event or virtual event and what that meant for our customers.
In the end, almost every customer that would have had an in-person event ended up having a virtual experience. We did create virtual benefits fairs with a host of tools, webinars, chat features, videos and calculators. It was all in one place and branded for our customers. I was on an industry call a couple weeks ago and was asked the question, "Do we believe fully virtual is here to stay?" I think probably not. I think employers have been embracing digital tools for a while. I think what you're likely to see in the future is more of that hybrid experience, at least for 2021, where we're still testing and learning and the data is coming in around the employee engagement with virtual and it contrasts with the physical experience.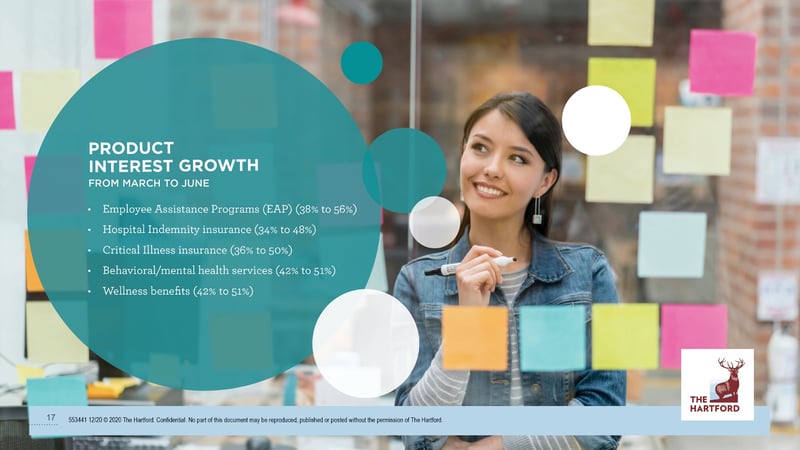 Cora: This is what we saw in the study, where we asked, "Are employers thinking about investing, or really re-promoting the benefits that they have?" Certainly, top of mind is employee health and wellness, and looking at those employee assistance programs. Where can we enrich those? Where can we offer more counseling sessions, and thinking about behavioral and mental health and thinking about overall financial wellness? That was one of the top stressors that popped in the survey.
It does in the best of times too, but particularly, in 2020 as employees were maybe dealing with a spouse or partner who had been laid off or furloughed. That's an area where employers can certainly help. Then, there's the gap-filler products, like hospital indemnity and critical illness. We're seeing that on the rise as employees are wondering, "What's covered and what's not covered?" particularly in a COVID environment, and how can they help offset the cost of a high-deductible plan.
Sherri: Yeah. I think this really gets back to the "choose" versus "use" discussion, and how both of those are so critical. Helping somebody understand what a hospital indemnity program is, when it might be used, if it's the right purchase for them or not is so critical in that "choose" bucket. Something like the employee assistance program, which isn't an electable benefit, but can really help support them during the year is so important from that user aspect.
Again, back to that personalization, which I know is our theme for today. Rhonda, technology becomes so critical in order to support that engagement at the time of need. And, there's the format that somebody might want that information in. That's a certain degree of personalization. Gone are the days of an open enrollment guide being delivered to my house that's 60 pages long that I'm supposed to continue to have to reference during the year. Talk to us a little bit about how technology can be used.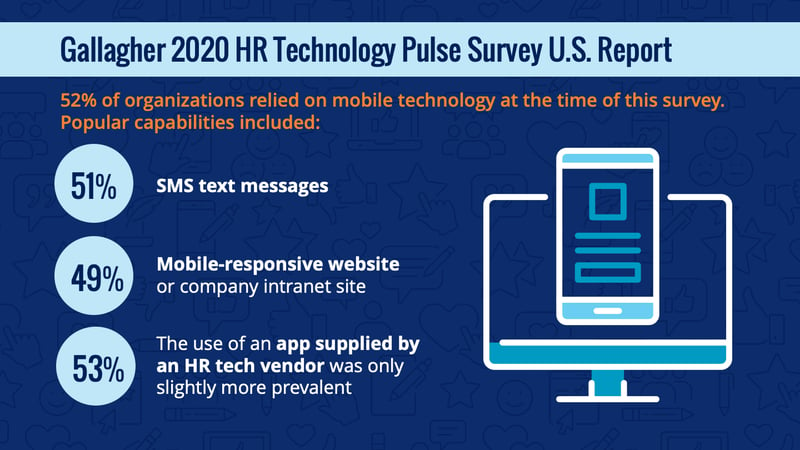 Rhonda: Well, these are the stats from our mobile question. We're seeing mobile devices becoming just more and more important. Not only because of working mostly remote, but because we're also more familiar with them. We're all using them every day. Mobile is just one tool, I know that. I think it can be a very effective means to help employees use or better optimize their benefits, whether it's telemedicine, a symptom checker, an Rx discount program, cost and quality transparency, or just simply active engagement via text messaging. These platforms help people think through their benefits, and in short bites, which is the way we've been conditioned now by mobile to understand things and consume things. We continue to watch mobile really closely, but it's almost become table stakes these days if you are a service provider in the HR technology space.
Sherri: Yeah, I know this is a big part of our Businessolver perspective—that is, to support people 24/7/365 in whatever format they prefer.
You know, it was interesting. I thought when we all shuttered our offices and went home that we would see an uptick in daytime interactions, because we were sitting at home and not sitting next to a colleague who could overhear conversations. But, it was the exact opposite. We saw significant increase in mobile utilization. I think part of that—and Veronica and I have talked about this—that not only during the day are we managing our jobs, but we're also managing home-schooling and other things that we didn't have to do before. I think that's part of why we saw mobile utilization go up. And we saw a significant increase in nighttime and weekend interactions with us. Mobile responsiveness and text messages and all of that becomes more important from a digital perspective.
Ok, time to get some input from our audience again.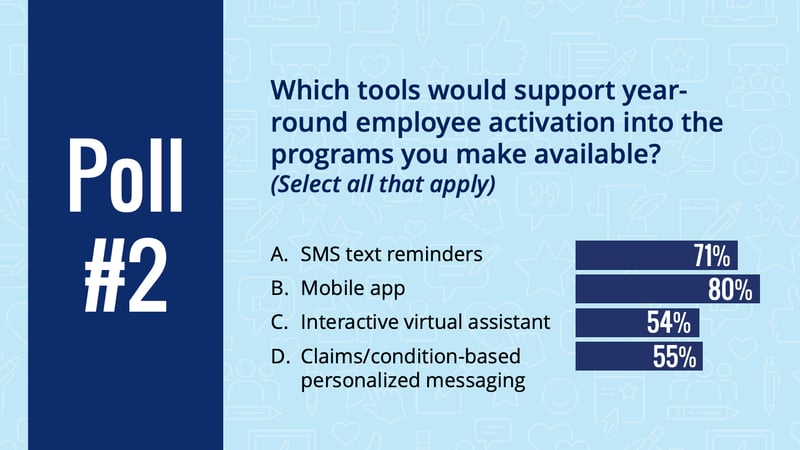 Sherri: When you, from an audience perspective, think about the ability to support people year-round in that activation of those programs, which of these do you think would be most effective to support that? You can choose as many as you deem appropriate. I know with us, as an organization, we capture each member's preferred communication channel—if that's email or text, for example—so we can send reminders to them that way.
We have the mobile app where, obviously, we're making it super easy for individuals to be able to access their programs, elections, and non-electable programs. We have a virtual assistant who can help guide people, even on nights and weekends, 24/7/365. Her name is Sophia, and she's our hardest working "employee," because she's always there for us. Going forward, we can even push messages that are specific to claims or conditions to keep employees informed and engaged. For example, she might contact me and say "Hey, Sherri, I see you had an accident. Don't forget to file your accident claim." There are lots of ways in which we can help support members.
Ok, let's look at the results. Look at that! I think this is really interesting. Ten years ago or even five years ago, the claims- and condition-based personalized messaging would have been significantly lower in the sense that employers had concerns about the use of personalized data. Members today really want personalized data. They're asking for more personalized information and nudges.
Now with technology—even given all the HIPAA and all the privacy regulations—our ability to get a member's approval to use data for those purposes and change their preferences in that way has become a lot easier too. We're seeing that continue to go up. Obviously, the mobile app is there to remind us.
Great input. Thank you very much for sharing that with us. Now let's jump back in into the next topic—fearless predictions!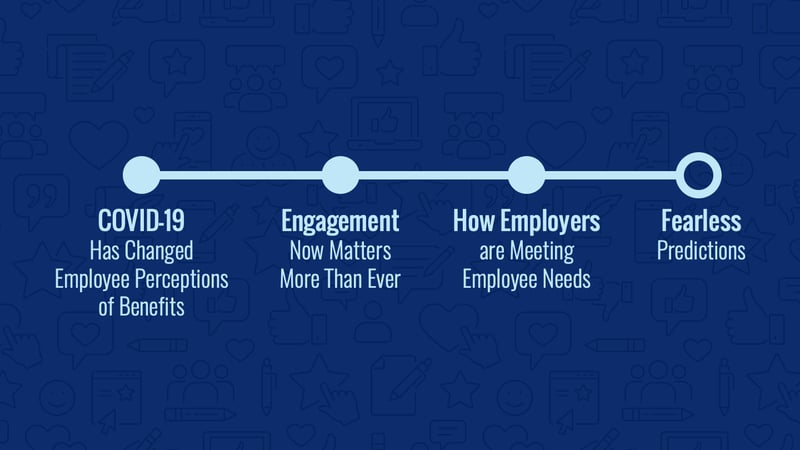 Sherri: I think, Cora, you had already mentioned a little bit about whether working from home will be here forever or will people go back to the office. You already shared a little bit about that. Maybe I'll start with you, then, on your fearless prediction for the future.
Cora: Sure. I want to share a map with the group, just to give you a sense of some research we did in 2019 in partnership with our actuarial department, where we were able to look at our 20 million customers by income and by state. While we would never know what a spouse or partner contributes to the overall family financial equation, what we're seeing here is that the average person we insure makes around $43,000 a year. And if you consider that the combined annual household income was 68,000 in 2019, that actually makes a lot of sense.
What we think about a lot at the Hartford is the paycheck-to-paycheck population. Because, what happens to these folks if they go out on disability and their paycheck gets reduced by 30% to 40%? Or what if a tragic life event happens and a spouse- or partner-salary disappears altogether. I think my fearless prediction—and really my hope—is that we'll get back to really talking about the bedrock benefits of life and disability insurance, and how we can offset the cost of a high-deductible plan, and really help employees prepare for those unexpected life events.
Employees have never been more dependent on their employers for these benefits. It's just so critical that we talk to families about how it works and how they can plan ahead. Here's a shameless plug for The Hartford's podcast series, The Line on Leave. If you go to our website or if you look for us in the App Store, we talk a lot about the paycheck-to-paycheck population, and just the importance of education. That's my hope.
Sherri: Yeah, that was super helpful. I think anybody who's worked with me knows I talk a lot about accessibility and affordability of care. Part of that is because it has such an impact on somebody's financial situation, which can be such a point of stress. We do some research on financial wellness as well. When I think about "choose" and "use" and why both of those are so important, it gets to that fact of financial wellbeing.
If an employer offers a resource to help an employee, helping them understand what that resource is and when to use it, it benefits the employer from a cost and productivity perspective. It also clearly has an impact on the individual consumer, which is so critical. Financial well-being is a conversation that's so near and dear to my heart, and I think to all of us here on the call today.
Ok, Veronica let's get a fearless prediction from you for Sephora or just from your own perspective.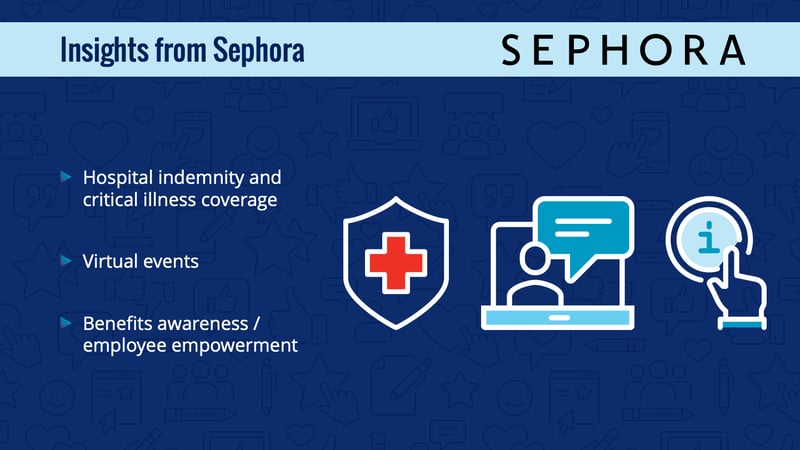 Veronica: Yeah. As I was telling someone earlier today, there really is no playbook for this for any of us. I guess my prediction is that I think employers are going to proceed with caution in making changes to their benefits over the next couple of years, and to just really stress education and the "use" portion of benefits. I also think that voluntary products like hospital indemnity and critical illness will be on the rise as they have become more relevant. I'd say the same about technology and life insurance.
I plan on continuing to offer more virtual events as our population either continues to work remotely and/or just because we're located across the United States. I do think as a benefits leader, it's our responsibility to continue to educate employees, promote awareness of all the different benefits that we offer as an organization, and convey how those benefits can empower our employees to make the right choices for their health not just now, but also in the future.
Sherri: Yes—benefits awareness and employee empowerment! What's some of the terminology that I've been using lately? A "responsible" consumer. In the past, I think it's been hard to help our consumers be responsible or accountable, because it was so hard to get access to the right information and data. Again, technology has really helped with that, where we can now put more onus on the employee to have that awareness and empower them to take the reaction. That's great.
Rhonda, a fearless prediction from you!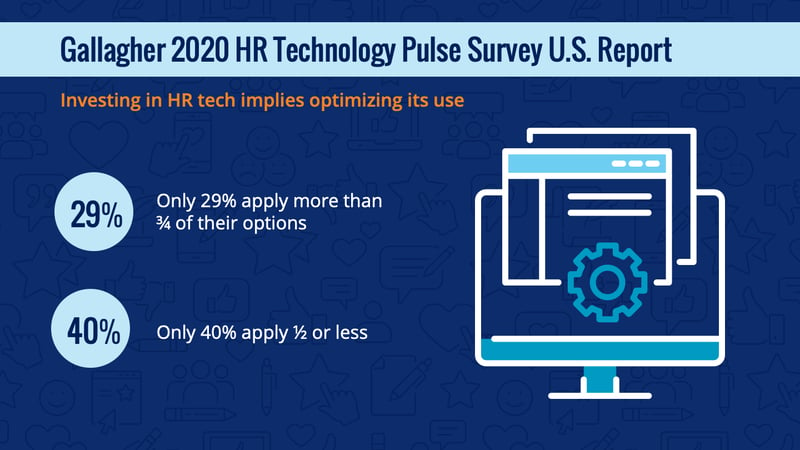 Rhonda: Yeah. I'm going to draw from our HR tech survey for my fearless prediction, and actually my fearless "hope." All these tools we have, once they get implemented, they really need to be optimized. Software as a service (SaaS) has created a situation where we don't have any "upgrade parties" anymore, because upgrades happen almost every week. I think it's really up to HR teams to decide how much of these platforms that they're paying for—these tools—to actually use. Unfortunately, very few are using a lot of those features.
If you just look at this, only 29% of the people surveyed applied more than 75% of the technology, and only 40% applied half or less. My fearless prediction is that, over the next three years, hopefully, we're going to see a focus on optimization, using what you already have, whether that's HR technology or whether that's benefits. Most of us today are sub-optimized. I think COVID brought that home a little bit for us; we've got lots and lots of tools at our fingertips, and we're not really using them. It's not only a fearless prediction, but it's a fearless hope for me.
Sherri: I'm right there with you, Rhonda. We actually host quarterly client workshops to help remind our clients of all we have to offer, because so much of it is not utilized. I'm right there with you on your hope. We're trying to enable our own clients to take maximum advantage of our technology.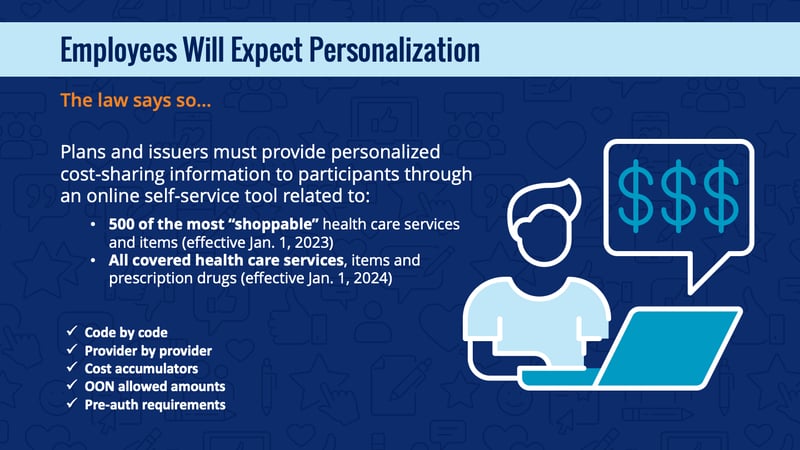 Sherri: I'll piggyback on something that I'm really hopeful for—something we've talked a little bit already—and that's this Transparency in Coverage Final Rule.
What I find so exciting about this in the past, when we've had to deal with regulatory or compliance elements, it's been somewhat challenging from an administration perspective without much value supporting any of our clients' strategic initiatives. With COBRA, for example, there are penalties, but the administration of it doesn't add a tremendous amount of value necessarily. ACA reporting—again, not a tremendous amount of value there. What the transparency rule does, is that it really creates a tremendous opportunity to empower individuals to make better decisions. So, back to that "informed consumer" and "accountable consumer." Back to the accessibility and affordability of care.
The rule promotes all of that. Because now, you'll have the transparency of the information couple that with the technology that we've been talking about. Not only does it propel us into this better, more accountable consumer experience, but it also helps, I think, just broaden somebody's knowledge on benefits and how to use their benefits. It's not just specific to transparency, but to all of those other plans and programs that are offered and why they're valuable. I'm really excited about that. This is one of the first compliance things I've been really excited about.
I am really excited about it because it does have that transparency, but coupled with the technology that we've been talking about. It just becomes really powerful. That's what I'm excited about. Okay. Let's get to Q&A.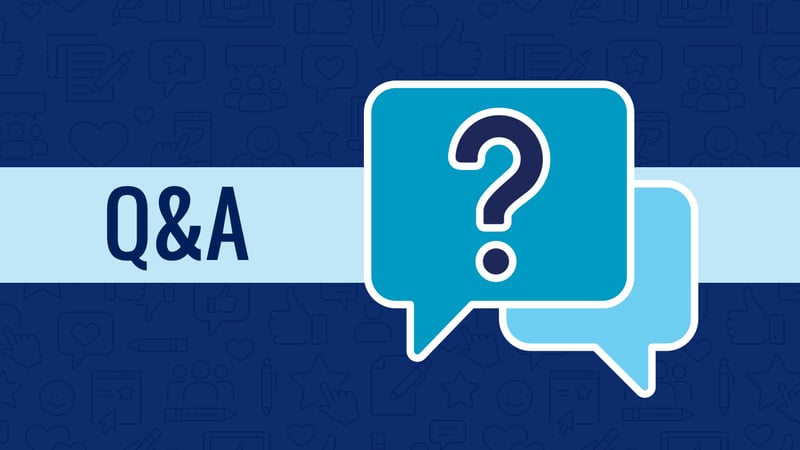 To hear the full Q&A session, access the recording.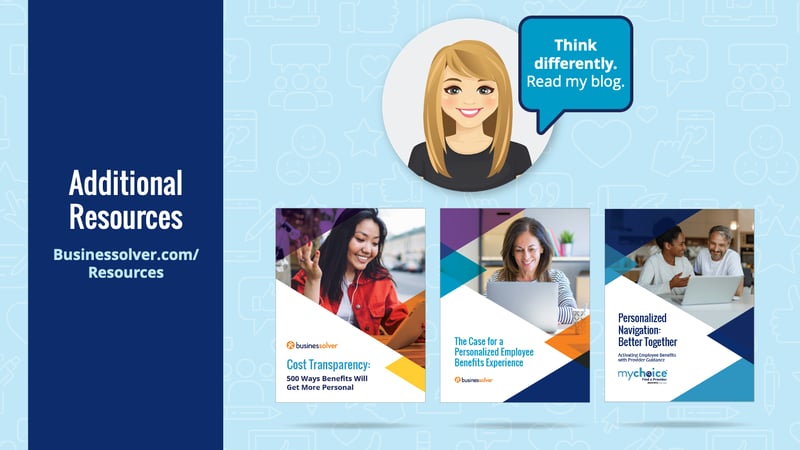 Sherri: Before we say good bye, here are a few resources you might want to check out on today's topic. ​All are available on Businessolver.com/Resources where you can browse through our library of nearly 200 thought-leadership publications such as white papers, e-books, guides, and infographics on benefits trends, our proprietary employer empathy research, best practices for employee engagement and everything in between, including those you see here on screen.
And make sure to subscribe to our blog, which I contribute to on a regular basis. ​
Finally, please let us know what you thought about today's webinar in the post-event survey, including what you found most valuable and what may have been missing from today's discussion.
​Thanks and have a great day!​